Hotel & Hospitality Linen Rental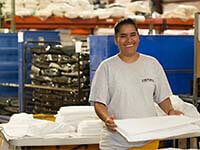 Crown Linen serves the needs of hotels, motels, and bed and breakfasts in the area. With your busy schedule, figuring out how to handle your laundry services should be an easy, routine task. We provide a variety of hotel linens, and we can set a schedule around what works for your business to pick up your used laundry and drop off your fresh, clean linens. We make sure that our service follows your business's schedule, and we make sure to provide you with the exact hotel and hospitality linen rental products that your business needs.
Crown Linen's Hospitality Linen Products
Crown Linen supplies the following quality hotel and hospitality linen products:
We provide high-quality linen products for your business. With the experience of many generations with linen rental service, we will always be able to provide you with the materials that your business requires. We have been providing high-quality service for over 120 years, and have the experience to count. We have seen it all. With our many years of service, Crown Linen Service has been going strong ever since. If you don't see an item which you require for your linen services on this list, contact our customer service department – we are ready to serve you!
Contact Crown Linen Service
Give us at a call at 800-733-8090 and we will provide you with a quote on our hotel and hospitality linen rental services today. Do not hesitate in giving us a call. We're waiting to hear from you!