Hotel & Hospitality Linen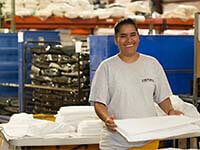 At Crown we've got you covered, whether you own your own goods or rent from our inventory of products. We provide a 7-day-per-week service in most cases and offer a 24-hour turn around on customer owned goods. In today's business climate, staffing and wage pressures are a constant issue. Outsourcing your laundry takes at least one of your key functions off your plate and in the hands of a professional laundry service. We provide a variety of hotel linens, and we can create a pickup and delivery schedule that works for your business.
Crown Linen's Hospitality Linen Products
Crown Linen supplies the following quality hotel and hospitality linen products:
Contact Crown Linen Service
Give us a call at 800-733-8090 and we will provide you with a quote on our hotel and hospitality outsourcing and linen rental services today. Don't hesitate to call! We're waiting to hear from you!