Restaurant Linen Rental & Service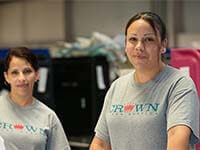 We enjoy serving a wide variety of food and beverage customers. With high-end country clubs, large caterers, award-winning restaurants, and the favorite local secret all on our list of customers, we strive to meet the needs of our diverse customer base. We offer products to keep the front of the restaurant looking its finest. We also offer products for the kitchen and restrooms that ensure cleanliness and safety for your patrons and employees. Our food and beverage products include both table linens as well as kitchen linens.
We offer the following restaurant linen items to meet your needs:
All of our products are made of a high-quality spun polyester, which creates a heavy, fully covering tablecloth that will enhance the image and appearance of your restaurant. Our napkins are processed in a way to ensure both cleanliness and performance, holding the shape you desire. Our table linens are second to none. With the different towel, apron, and mat options available to you, you can demonstrate your commitment to cleanliness and safety for your staff and customers.
Contact Crown Linen Service
Crown Linen Service promises to provide your business with the highest quality restaurant linens around. We pride ourselves in being able to provide excellent restaurant linen products and deliver them efficiently for your business. If you would like more information on our food and beverage service options, please contact us today.