RFID Technology
RFID technology is a revolutionary system
that allows for the wireless transmission of data between an RFID reader and an RFID tag. At Crown Linen, we continue to raise the bar in an increasingly competitive industry by adapting and evolving alongside the latest technology and best practices to streamline your operations. That's why we've incorporated cutting-edge RFID technology to improve our efficiency and reflect the innovations of the 21st century.
Advantages of RFID
RFID technology uses radio waves to identify, track, and manage objects. They use three key components: RFID tags, RFID readers, and the software system. The tags store essential information, such as identification codes and product details, and are read by specialized RFID readers. The collected data is processed and analyzed by the software system to improve decision-making and optimize operational efficiency.
Crown Linen RFID technology offers several advantages over traditional methods of inventory management. These benefits include:
Real-time Tracking and MonitoringRFID technology enables real-time monitoring of the linen inventory. This provides accurate, up-to-date information on assets, enabling you to make informed decisions about stocking and logistics.
Improved AccuracyBarcode systems are prone to human errors and inaccuracies. RFID automates scanning and reduces the likelihood of errors in inventory counts.
Enhanced SecurityRFID tags are seamlessly embedded in linen items, making them difficult to tamper with or remove. This empowers us with an additional layer of security for valuable inventory.
Increased EfficiencyRFID reduces the time and labor required for inventory management, as the RFID readers can scan multiple items simultaneously, promoting cost savings and improved operational efficiency.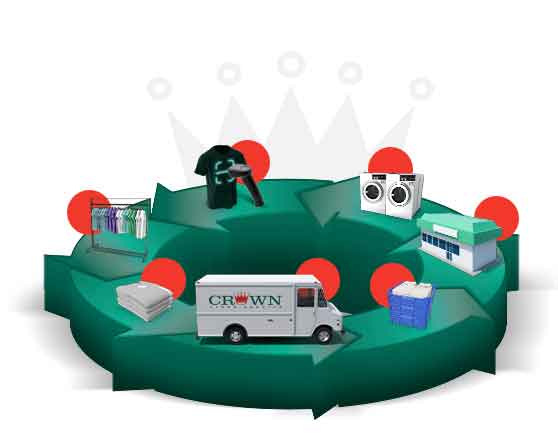 Effortless
Integration
We successfully integrate RFID by attaching tags across our exceptional catalog of products. By doing so, we track the movement of each item throughout our facilities, from storage and laundering to delivery and pickup.
With real-time data on the location and status of each item, we optimize delivery routes and ensure timely deliveries no matter the ebbs and flows of a grueling workday.
Going Above
and Beyond
With RFID, Crown Linen dramatically reduces the chances of lost or misplaced linens, which can lead to unnecessary costs and customer dissatisfaction. This improvement in inventory management promotes profitability and strengthens our reputation as the gold standard in our industry.
Call Crown Linen Today!
Utilizing RFID technology has transformed the linen management process, offering significant benefits in efficiency, cost savings, and customer satisfaction. With Crown in your corner, elevate your standard of service a cut above your competitors. Contact us at (800) 733-8090, or email us to learn more about our products and services.