About Crown Linen Service
Quality Products. Quality Service. Our Way of Life for over 130 Years.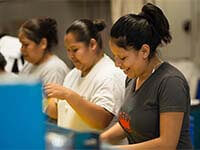 Crown Linen Service has been serving the greater St. Louis and central Missouri areas for more than a century. We have worked hard to achieve our reputation for providing superior customer service, delivering high quality products and building lasting relationships with our customers. Starting out as a small mom and pop laundry service, we have now grown to be the largest independent, family-owned linen company in the Midwest. We have expanded to now serve southern Illinois, Lake of the Ozarks, northeast Missouri, and all points in between out of our processing facilities in central Missouri and Southern Illinois. We believe our dedication to world class service to our clients is what sets us apart from our competitors.

Our customer service reps get to know our clients on a first name basis. We pride ourselves on forming lasting relationships with our customers. Our route team has one of the longest lengths of tenure in the entire industry, with most of our team averaging more than 10 years of service and several with much more. You will see a familiar face every time we arrive at your facility. The same goes for our service management, customer support, and production management teams. At Crown, our people are experienced, knowledgeable, and eager to assist you.

Our production facilities utilize the latest technology to produce, high quality products at a competitive price while minimizing the impact on the environment. Water, energy, and supply consumption are key areas of focus as we try to do our part to maintain the lowest environmental impact we can. We strive to be not only good business partners with our customers, but good partners in our communities as well.
If you have any questions, or you would like to learn more about how we can help your business succeed, contact us today!