Jamie Barth
Production Manager – Columbia, IL
Hometown: Oakville, MO
Spouse: Amy
Children: Emily and Ethan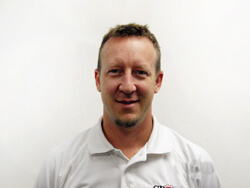 Jamie Barth came to Crown Linen in 2009 as a custodian. When he came to Crown Linen he had extensive training in sales, team management, marketing, and he had previous work experience in leadership at his own Classic Car Dealership in St. Louis. Jamie took the position of custodian to get his foot in the door, but we soon recognized his talent and leadership skills, and he was promoted to Route Jumper, and finally to Production Manager at the Columbia, IL plant. Jamie is responsible for the overall operations of the Columbia facility, and we are proud to have him as a part of the team!
In his free time, Jamie loves spending time with his family, mountain biking and running. He coaches his son Ethan's baseball team and believes that anyone can become a leader if they are humble and work hard.
Contact Crown Linen Service or learn more about our staff!