Medical and Healthcare Linen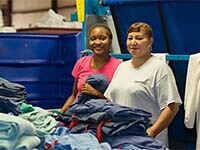 Crown Linen Service is a high-quality linen service that can provide your businesses with high-quality healthcare and medical linen products. We service the needs of area hospitals and other medical facilities. In addition to serving the needs of area hospitals, we can also provide linen rental services to doctor offices and other medical care facilities. Just like hospitals, these locations require on-time, dependable deliveries. Our staff members are all trained in making sure that the materials that leave our locations are clean, fresh, and up to state and federal standards. We make sure to provide quality on-time delivery, vowing that our products arrive at your facility exactly as expected. We also make sure that we go above and beyond with our service.
We guarantee superior quality with our materials, and we can provide you with the following medical linen:
Standard
Over-sized
IV Gown
Surgical
Medical Apparel, Medical Uniforms
Surgical Scrubs
Fluid Resistant Lab Coats
Lab Coats
Linen Storage
Stands
Hampers
Precautionary Bags
Floor Mats
Logo Mats
Comfort Flow Mats
Scraper Mats
Regardless of whether you have an office with 10 doctors on staff, or you are working with a team of specialized care providers in a hospice center – we are here to provide you with the products you need. Our quality products are sterile and safe. We make sure to provide quality medical and healthcare linens which maintain the safety and cleanliness of your medical facility. It is vital to maintaining a clean environment in a healthcare facility; this is why we pride ourselves in our ability to provide your business with high-quality medical products.
Contact Crown Linen Service
Give us a call at 800-733-8090 and our representatives will provide you with a free quote on our quality service. Our representatives are eagerly awaiting your call.