Linen Products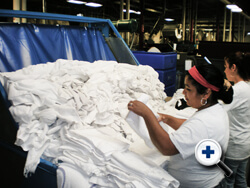 Our goal is to provide you with quality linens and make your business endeavor a successful one. We hand-select the finest linens and offer many different options to our customers. In addition to our extensive linen rental products and services, we provide direct sales for paper products.
Our products come in a wide variety of colors and styles whether you are in need of rentals for a restaurant, hospital or a hotel. The materials are thick, durable, absorbent, and beautiful. Our staff ensures each returned item is inspected for stains and deterioration. Our products are specially treated so that they are always clean and in great condition. If a piece is starting to show signs of wear, we sort them out to be discarded. Our quality control methods ensure that you receive only the highest quality products.
We help you to help your customers have a rewarding experience. Whether you own a restaurant or a busy hospital, we're here to help.  Contact us today!
---
What is New At Crown?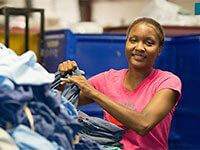 We are proud to offer 2 new products at Crown Linen: the T-Cell and Micro Fiber Cleaning products.
The T-Cell is an advanced odor control system. It delivers a precise dose of pure designer fragrance and odor neutralizer. This lasts for 60 days without the use of batteries. Our new microfiber cleaning products are able to remove 98% of bacteria from all surfaces.